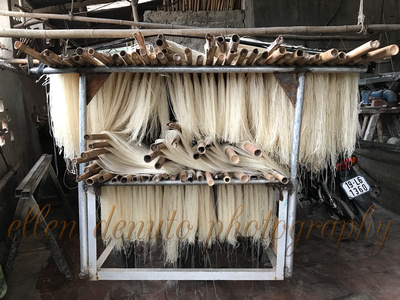 Visiting the hill tribes and regions along the rivers of Viet Nam awakened memories of grainy war images shown nightly on American news. I never understood this war, and undertand it less now.
40 years ago North Vietnamese soldiers marked the end of the war, celebrating in the streets of Hanoi which was about to become the capital of a unified Vietnam. Now celebrated as Reunification Day, those who were there say the happy moment was indescribable.
The US however, portrayed it as the fall of Saigon featuring panicked Vietnamese crowding into choppers to be evacuated. Despite the devastation and casualties one Veteran told me "Talking about war is to talk about loss and painful memories." We don't have much, but we have we are grateful for.
They are now one of the fastest growing economies in East Asia.
Whether in busy Hanoi or the peaceful countryside -the tradition of "family" working together at skills passed down for generations continue to survive with pride and grace.
Originally posted at https://www.socialdocumentary.net/exhibit/ellen_denuto/4232